Lake Erie and Lake Ontario Fishing Guide
Below is a guide to help you pick the best fishing times to enjoy a fun filled day on Lake Erie or Lake Ontario. These recommendations are based on years of data and proven fish catching tactics that our captains have developed over decades of fishing.
We fish the western basin reef complex of Lake Erie where millions of walleye come to spawn in the spring and feed on the massive schools of bait fish and the billions of mayflies that hatch ever summer. We use several different techniques depending of weather conditions, water temperature, water clarity. We start the season at ice out using hair jigs targeting spawning walleye. As the water begins to warm after the spawn, we transition to either casting worm harnesses of trolling. At Daze Off Charters, we recommend the best way to catch walleye at the particular time you are here. The decision on how you, as the customer, want to fish is up to you. We have groups that only like to cast, we have groups that only like to troll and we have groups that like to do a combination of both. The choice is yours.
Please keep in mind the weather during the time of the year you are scheduling your fishing trip. Some of our customers are die hard fisherman and don't mind a chilly spring day on the water and some are families or novice fisherman who are looking to catch a cooler full of fish as much as have a warm relaxing day on the water. We can accommodate any skill level from the group that fishes a couple days a year to the most experience angler.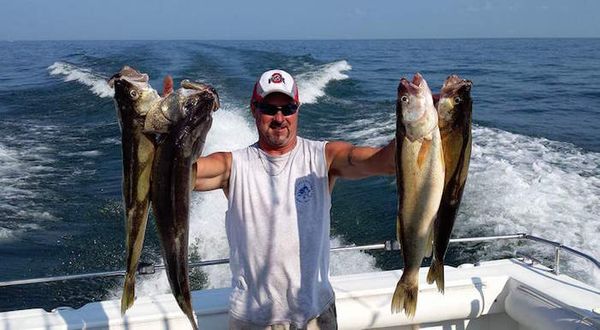 April
April is walleye spawning time. Lake Erie Walleyes migrate to the Western Basin Reef Complex in large numbers. Boat ride from the Wild Wings Marina can be as short as 5 minutes. The majority of the walleyes caught during this time are 19"-24" males. The best way to catch these shallow water walleyes(4'-16' deep) is with ¾ ounce hair jigs. If you like to jig fishing then April is the perfect time. The limit is 6 fish per angler. LIMIT CHANGE-The Ohio Department of Natural resources has increased the spring walleye limit for 4 fish to 6 fish.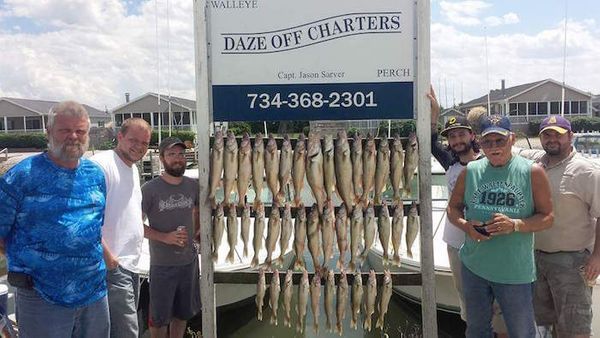 May
In May we are targeting post spawn fish. Males are still aggressive and females are hungry after a long stressful spawn. The preferred method of fishing is with bottom bouncers and worm harnesses as well as trolling spoons. The limit is 6 fish per angler.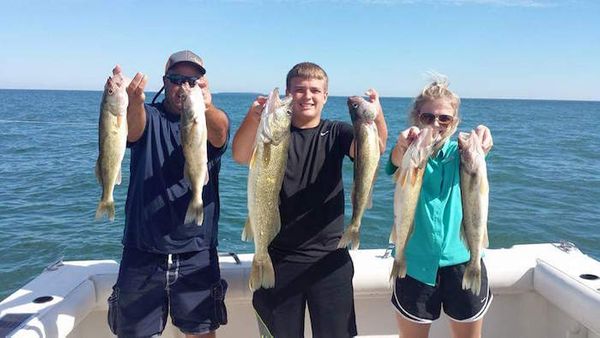 June
The walleye fishing in June starts to become consistent with the beginning of stable weather. As the water temperature rises the fish become more active and can produce limit catches. Fish caught during June range from 15"-22". The limit is 6 fish per angler.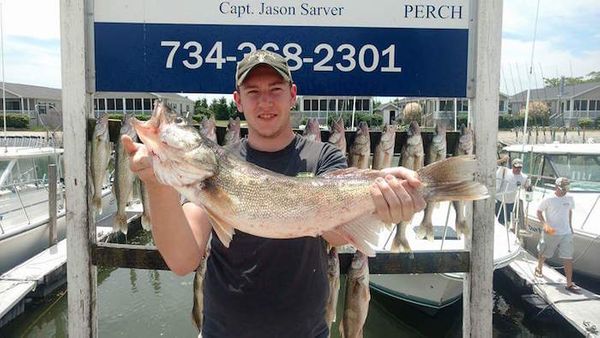 July
July is the best month for limit catches of Lake Erie Walleye. The weather is stable and walleye are schooled up in their normal patterns and migrations. July has the highest catch rate of any month according to the Ohio Department of Natural Resources. July walleye fishing the past 4 seasons has been hands down the best of all months. The casting bite is usually pretty consistent on the reef complex and of course trolling produces limit catches of open water walleye. The limit is 6 fish per angler.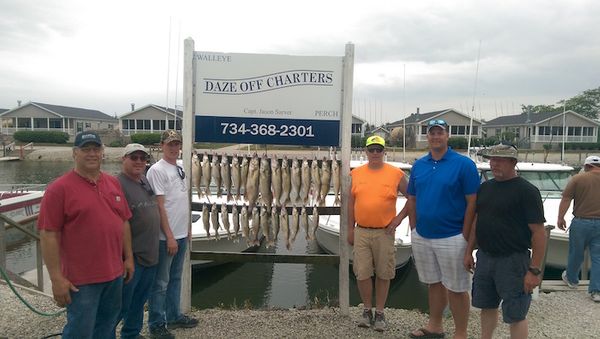 August
The first two weeks of August usually still produce limit catches of walleye. This all depends on the water temperature. The 2014 season produced limit catches up until the 3rd weekend of the month. Once the walleye fishing slows down toward the end of the month we turn of focus to Yellow Perch. Walleye limit is 6 fish per angler, perch limit is 30 fish per angler.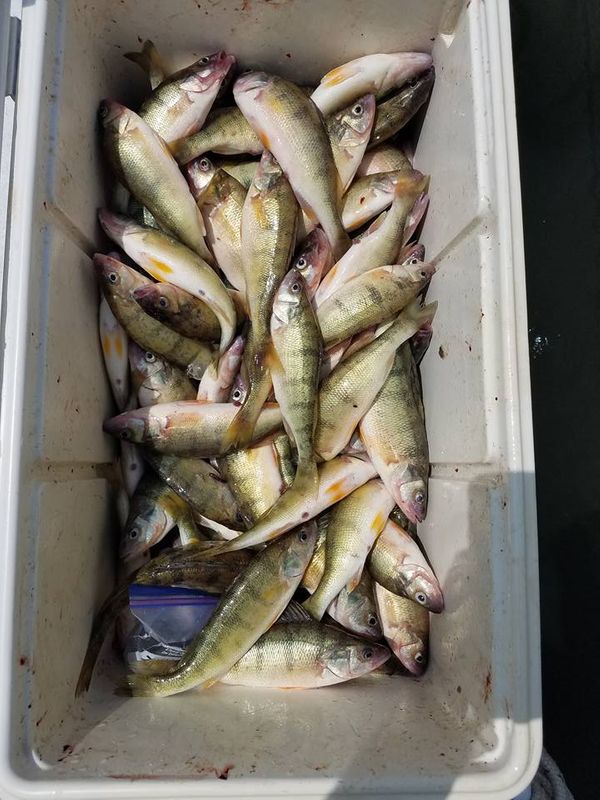 September / October
September and October are ideal for targeting Lake Erie Yellow Perch. Nothing beats this table fare. Fish range in size from 8-12 inches. Perch fishing can be very good and limit catches are very common. The limit is 30 fish per angler.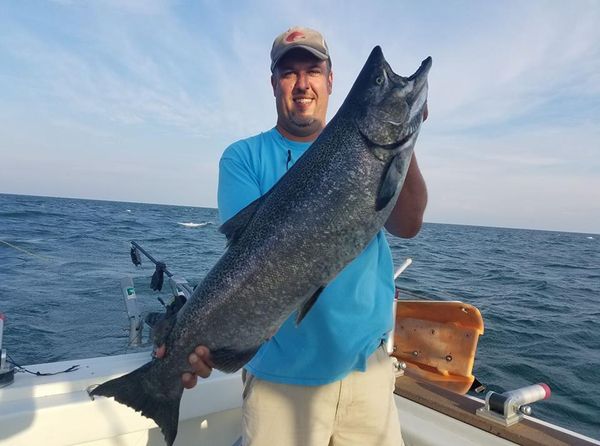 King Salmon & Steelhead Fishing, Olcott, NY
If you are looking for drag screaming action, this is the place to be. Every year Lake Ontario produces world class king salmon and steelhead. We will have one boat in Olcott, NY for the months of July and August during the prime salmon and steelhead fishing season.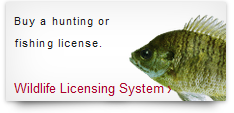 Fishing License
Unlike Florida, Ohio does not offer a "boat license" for anglers. Each person 16 years and older on a charter is required to purchase a valid Ohio fishing License.
Fishing licenses can be purchased either online or at Wild Wings Marina convenience store. Please make sure the weather is favorable on the day of your charter. Licenses are not refundable so if there is any question about the weather, please call us.
Below is a link to purchase your Ohio fishing license online. Once purchased you can either save it you your phone or screenshot the license. You do not need to have a printed copy of your license if purchased online. If purchased at Wild Wings convenient store be sure to sign and date your fishing license. Most citations on Lake Erie is because the fisherman forgot to sign and date their fishing license.