The Premier Charter Service on Lake Erie and Lake Ontario
We are a professional and full-time charter fishing business
For Reservations of The 2023 Season Call: 734-368-2301
Testimonials From a few of our many satisfied customers
"Great charter. Great captains. Cleanest boats and cleanest trailers I have stayed in and have been on for any charter. Not to mention they put you on the fish."
- Jason M
"Always a great time. Jason and his captains always do their best to put you on the fish."
- Jeremiah B
"Just got back from our yearly walleye trip with Captain Jason Sarver. As usual we had a great time catching plenty off walleye. We had 26 quality fish, mostly 18 to 24 inches. This catch yielded 62 pounds of fillets. I highly recommend Captain Jason's Daze Off Charters to anyone wanting to have a great trip with a great captain."
- Vince G
"Great trip. Jason was an awesome Captain. Had a wonderful walleye trip."
- Crystal Z
"Have went with Jason for the last 10 plus year. We have consistently caught our limit and had great trips year after year."
- Rob B
Daze Off Charters - Lake Erie and Lake Ontario Sport Fishing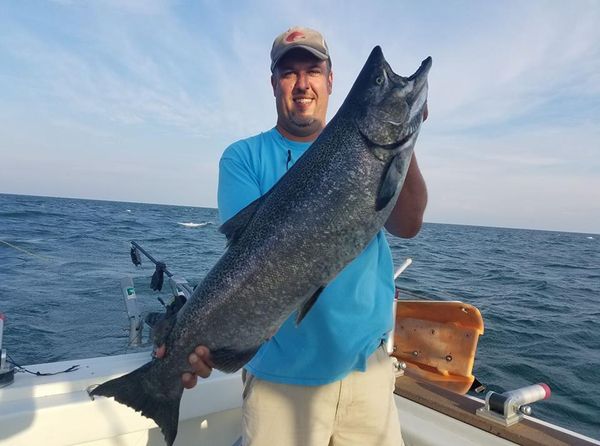 Captain Jason
As both Captain and owner of Daze Off Charters I personally guarantee each fisherman has the most enjoyable day on Lake Erie as possible.
- Captain Jason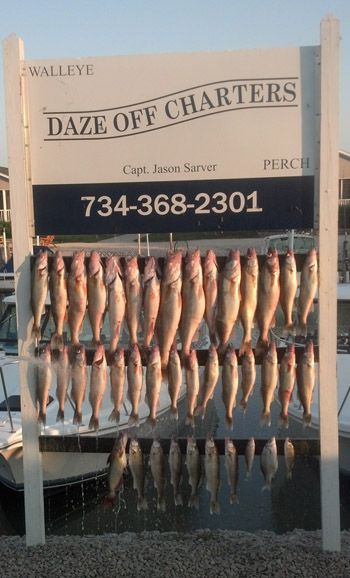 Captain Jason,
Just wanted to send a sincere thanks for the effort you put in Friday to get us out there and find us some fish. I know it wasn't easy for any of us including you. It was obviously the only opportunity we were gonna have to fish this wee-end and I truly appreciate you recognizing that, and doing what you could to get us into some fish and not make the fishing part of the week-end a total wash-out.
For a bunch of land-lubbers, I thought we did pretty well. Seriously, we all had a great time and I'll be calling ya again if I can scrape up the right group of people to do something like this with in the future.
Many thanks for your courtesy, professionalism and for just being a damn good guy to go fishing with. That means more to me than anything.
Your operation is first class and I'll be sure to share that info. with my fishing buddies. ( Got a few of 'em.) Thanks for a great ( and memorable) day of fishing. If you consider this a good review, feel free to post on your site. Not sure how that works. Have a great rest of the season and thanks again. Hope to fish with ya again soon. YOU THE MAN!
God bless ya and the people ya love.
Sincerely,
Dick Giles
Salmon Fishing on Lake Ontario with Daze Off Charters